A finding from the Swedish openEHR work is that the general usefulness of the attribute "setting" of EVENT_CONTEXT (see diagram below) and the choices available in associated terminology (see XML below) feel a bit too country/organisation specific (and old) to be mandatory in the RM in current form.
Questions:
Could/should setting be made optional in a future RM release?
What do people from other countries think of the current alternatives in the terminology?
In what kind of applications/use-cases is the "setting" variable used and useful today? How well would they work if "setting" was made optional and some of the data in an EHR no longer had it set at all?
Problem examples:
In general we often want multiprofessional EHR notes (COMPOSITIONs) that are updated by different professions, so the split medical/nursing/allied in both primary care and secondary care creates more problems than it solves.
There is a mix in the terminology between responisble healthcare level and physical place. When it comes to "home", there are professionals from at least three organisational levels working with home based healthcare in Sweden (primary, secondary, municipal)
The division between primary and secondary care is slowly dissolving in some collaborative settings that actualy want to document the care together.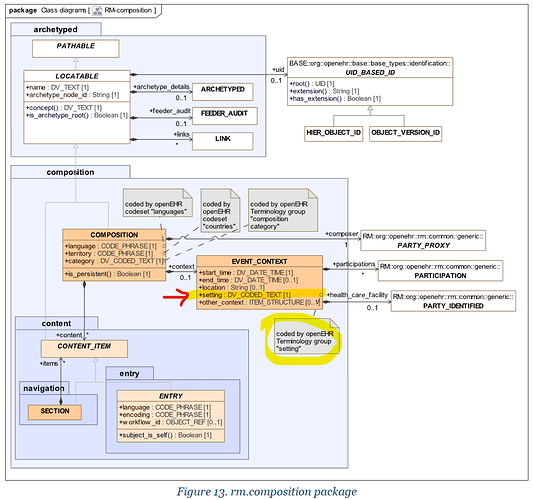 Image from EHR Information Model chapter 5.
Terminology explained in Support Terminology specification and actual content available in terminology/openehr_terminology.xml - excerpt below:
	<group name="setting">
		<concept id="225" rubric="home"/>
		<concept id="227" rubric="emergency care"/>
		<concept id="228" rubric="primary medical care"/>
		<concept id="229" rubric="primary nursing care"/>
		<concept id="230" rubric="primary allied health care"/>
		<concept id="231" rubric="midwifery care"/>
		<concept id="232" rubric="secondary medical care"/>
		<concept id="233" rubric="secondary nursing care"/>
		<concept id="234" rubric="secondary allied health care"/>
		<concept id="235" rubric="complementary health care"/>
		<concept id="236" rubric="dental care"/>
		<concept id="237" rubric="nursing home care"/>
		<concept id="238" rubric="other care"/>
	</group>