Hi!
In a national Swedish openEHR work group we are trying to (due to Swedish legal access filtering reasons) find the best place in a COMPOSITION+EVENT_CONTEXT to put some extra organisational levels that do not fit easily within EVENT_CONTEXT.health_care_facility.
In the normal health_care_facility attribute (see diagram below) we would like to put the most granular and clinically relevant identifiable organisation level, e.g. the physiotherapist section of a certain health central (or a ward of a clinic).
The health central (or clinic) is the next identified level…
…and above that you have the caregiver organisation (e.g. Region X or sometimes hospital Y).
The question we have is where to put info about level 2 and 3!
For now our current main candidate is to add an Organisation archetype in the EVENT_CONTEXT.other_context slot to host level 2 (role=healtcare unit) and within the "parent organisation" slot (of that added archetype) add yet another instance of an Organisation archetype containing level 3 (role = healthcare provider organisation).
Pro: This seems like a reasonable intended use of both the EVENT_CONTEXT.other_context slot and the Organisation Archetype
Con: If anybody sets COMPOSITION.context --> EVENT_CONTEXT or its EVENT_CONTEXT.other_context --> ITEM_STRUCTURE attributes to prohibited (0…0) in a COMPOSITION archetype/template, then this won't work
Con: a bit verbose in resulting data (possibly every composition ever made in Swedish healthcare)
Alternatives?
A: Abusing the multi-value-capable identifiers field of the healthcare_facility → PARTY_IDENTIFIED object to also contain the IDs of level 2 & 3 (see second diagram below)

Con: One PARTY_IDENTIFIED.nameabused for three different organisational levels
Con: Hard to differientiate roles of level 2 & 3 without further abuse of DV_IDENTIFIER.type

B: Abusing the EVENT_CONTEXT.participations to add level 2 & 3 (as siblings)

Pro: Has a nice functionattribute that can be coded with Snomed CT to differentiate level 2 & 3 the same way we would have done in the role attribute of the Organisation archetype
Con: We can't really tell if this is a reasonable use of participations.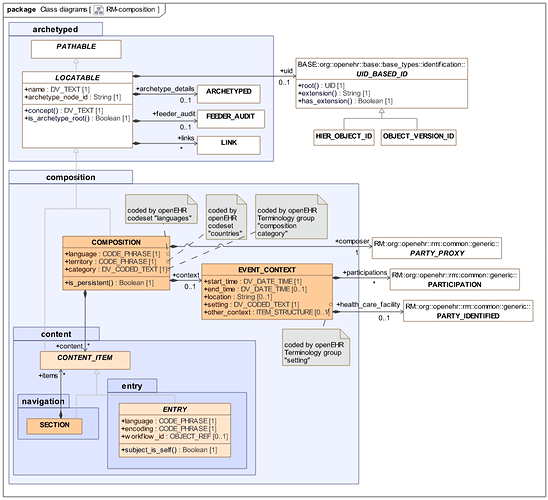 …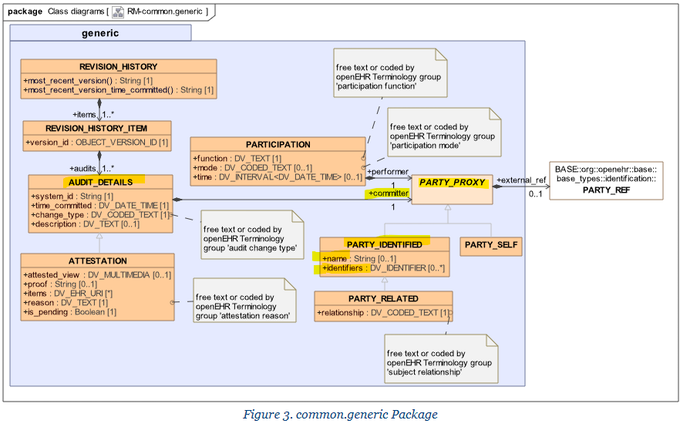 Any thoughts on this?
Current main proposal, alternative A, alternative B or something else?
What Pros and Cons have we missed?