Hi!
A hint to others getting confused. I didn't quite understand the CKM translation upon/after version change.
Since the archetype was now in v1 and is missing Swedish translation (also see P.S. below) I thought I'd create a new translation for for v1, but when I tried to, it instead opeed my existing (still open) branch for translation from v0 and (even though I clicked on the start translaton under the v1 archetype - a bit confusing).
It was not possible to start a new translation for v1…

The solution was/is to backup your v0 translation to your local computer, then delete(throw away) the v0 branch and start over with a new branch for v1.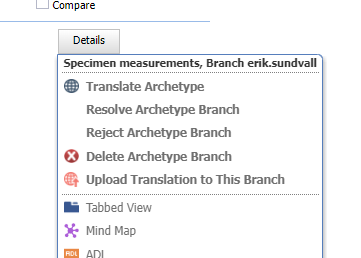 Many fields can be cut&paste-copied from your v0 backup.
Hope this saves somebody alse from confusion later.
Edit - after tip from @varntzen below : reject rather than delete the branch may make backing up unnecessary
P.S. Since I several times have gotten reflex responses regarding that nothing is guaranteed for what happens with translations of v0 archetypes and that it is smarter to wait until v1, I just want to clarify that I was NOT complaining about the fact that the v0-based Swedish translation wasn't included in v1.