I created a first draft of the NEWS2 guideline (RCP, 2017), as another example to exercise the Task Planning/ Decision Logic Module approach to formulating guidelines (see here). I have yet to encode the workflow (Task Planning) part.
In common with other guidelines, NEWS2 has some tricky elements for formal representation, particularly the 'scale 2' form of the SpO2 score, which can be seen on the visual algorithm representation below.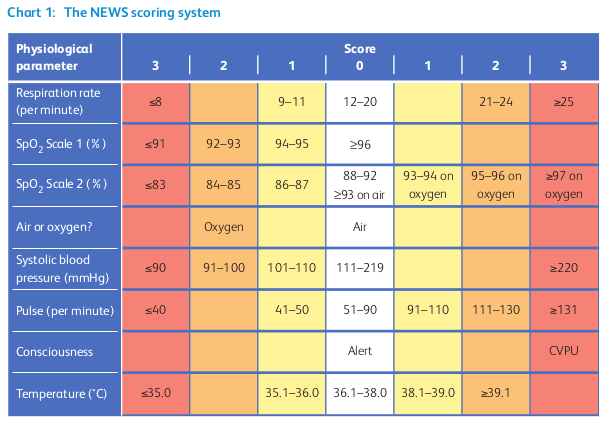 On the SpO2 (scale 2) row, it has the following:
88-92% → 0 points;
>=93% on air-> 0 points;
And then remaining items to the right marked 'oxygen'. It takes a bit of work to correctly formulate this in a computable way, as can be seen in the example. I am assuming that 'air' means PP air, if not, I don't see how this cell makes sense, since ambient air is clearly the default.
There are other minor challenges as well: NEWS2 doesn't name the 5 bands it uses (or sometimes 4) for various kinds of monitoring and clinical response.
Another thing that is an interesting question is exactly what the workflow (Task Plan) should look like. Is it essentially a timed monitoring loop, with exit branches for urgent / ICU care? In other words, does NEWS2 become the controlling logic for managing very ill patients?
As usual, I am interested in any clinician feedback, particularly about whether the formalism (although not yet colourised in a nice editor) look like something that you could use, with a bit of training (assume you do have tools)?
Partly, this kind of exercise makes me think that organisations such as the RCP, NICE etc who create guidelines would benefit from direct input from clinical modelling and even some technical experts, so as to improve the computable representation and maintainability of the guidelines they publish - and one day possibly even publish primarily in a mixed computational documentary format, of the kind we are trying to develop here.