Hi all , I am trying to modelling the following document for Systemic Lupus Erythematosus Disease Activity Index (SLEDAI) - http://www.sledai-2k.com/sledai2k.pdf
But I am in doubt what should be the best modelling approach for this case. I had a talk with @ian.mcnicoll and already found 3 different ways to make the same thing, but I don't know exactly what should be the best or if there are some modelling patterns/styles for this case.
In the following links you can see the 2 archetypes that I created quickly for testing. One uses an ordinal type with the different descriptors as internal runtimes codes and uses the weights as ordinal values ( example: Archetype Designer) which can later be multiplied at the template level and will look something like this: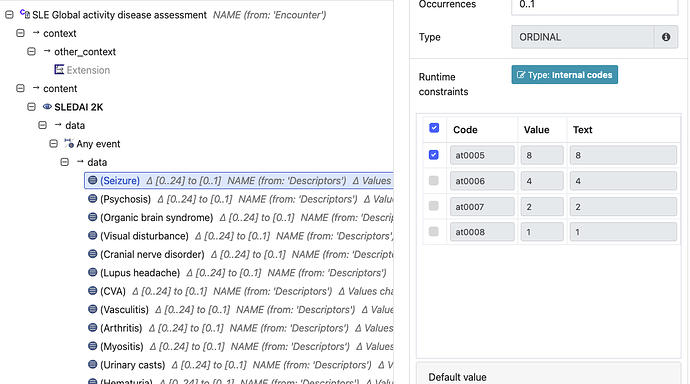 , the other uses one single field "descriptors" with multiple occurrence and all descriptors are within the ordinal value ( example:
Archetype Designer
)
Other case would be creating an element ordinal type for each descriptor, like a list, similar to this example: (Archetype Designer)
From the community perspective what could be the best approach?