Hello,everyone
I'm currently researching the integration between other standards and openEHR,I adopted the technical route as shown in the figure.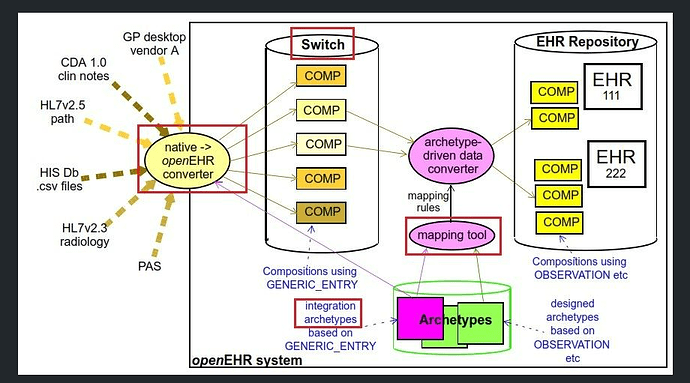 I have a detailed understanding of openEHR's Integration Model, and learned Generic_entry. And I have tried to convert and integrate some standard data sets of China's health industry standards with openEHR standards. These are some of the Generic_entry I have generated so far, sorry for the Chinese version only.
openEHR-EHR-GENERIC_ENTRY.laboratory_examination_.v0.adl
(73.1 KB)
openEHR-EHR-GENERIC_ENTRY.clinical_auxiliary_examination.v0.adl
(29.2 KB)
openEHR-EHR-GENERIC_ENTRY.physical_examination.v0.adl
(131.8 KB)
openEHR-EHR-GENERIC_ENTRY.complaints_and_symptoms.v0.adl
(66.9 KB)
openEHR-EHR-GENERIC_ENTRY.other_inspections.v0.adl
(6.8 KB)
I have some confusion about the follow-up technical route and the usefulness of these Generic_entry.
1.I am not very clear about the "archetype-driven data converter" and "mapping tool" in the technical route,Is it a direct mapping between Generic_entry and care_entry?
2.At present, I am directly mapping the Chinese national standard with openEHR, which may result in multiple Generic_entries for the same concept. For example, the liver cancer standard data set and the lung cancer standard data set will have the concept of basic patient information, so there will be two Generic_entry, and the data items of these two prototypes are not exactly the same,how should I solve this problem, should I merge the content or do other solutions.
3.In the follow-up, in addition to the relevant standards of China, I also consider using the Integration Model to realize the integration of standards such as FHIR and CDA. What are your opinions on these?
Thanks in advance!
Regards,
Zhao Jixaing