In Archie there is a list of specifications in class BuiltinReferenceModels from which the repository is built.
I used this list to build a repository in my implementation (which is using Dart language).
I get errors due to the conflicting definition of the EVENT type. It is defined as a SimpleType in
bmm/openEHR/components/RM/Release-1.0.3/openehr_structures_103.bmm
but as a GenericType in
bmm/openEHR/components/RM/Release-1.1.0/openehr_rm_structures_110.bmm
Archie doesn't treat these errors as exceptions during the validation but it keeps them in the validation results.
(these conflicts occur in class PBmmContainerType.createBmmType())
Edit: Archie catches the duplicates with DUPLICATE_CLASS_IN_PACKAGES.
Should I just remove the conflicting specifications (I guess most of RM/Release-1.1.0)?
Or should I start with a top specification and let it include the specifications it requires?
(e.g. specifications-ITS-BMM/components/RM/Release-1.0.3/openehr_ehr_103.bmm)
Or is something else that I'm doing wrong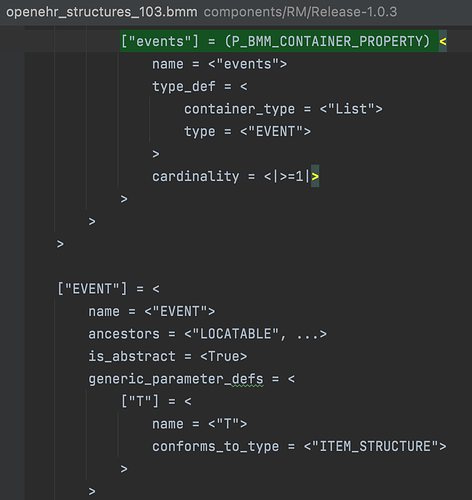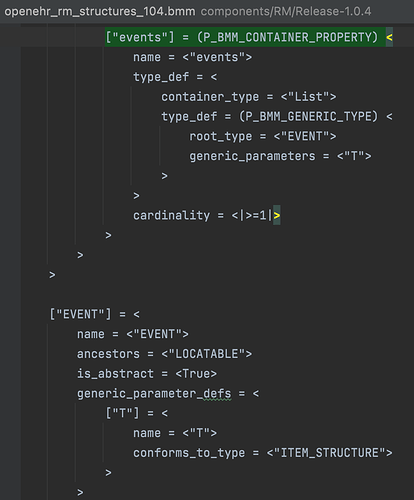 Passed and failed validations in my implementation (scrollable):
Validation result of openehr_lang_1.0.0: Passed
Validation result of openehr_ehr_1.0.3: Failed
Validation result of openehr_rm_1.0.3: Failed
Validation result of openehr_rm_ehr_1.1.0: Passed
Validation result of openehr_primitive_types_1.0.3: Passed
Validation result of openehr_structures_1.0.2: Passed
Validation result of openehr_rm_structures_1.0.4: Passed
Validation result of openehr_rm_demographic_1.0.4: Passed
Validation result of openehr_rm_demographic_1.1.0: Passed
Validation result of openehr_ehr_extract_1.0.3: Failed
Validation result of openehr_basic_types_1.0.2: Passed
Validation result of openehr_rm_ehr_1.0.4: Passed
Validation result of openehr_basic_types_1.0.3: Passed
Validation result of openehr_proc_task_planning_2.0.0: Failed
Validation result of openehr_base_1.1.0: Passed
Validation result of openehr_ehr_extract_9.9.9: Failed
Validation result of openehr_rm_ehr_extract_1.0.4: Passed
Validation result of openehr_rm_data_types_1.0.4: Passed
Validation result of openehr_demographic_1.0.2: Passed
Validation result of openehr_rm_1.0.2: Passed
Validation result of openehr_rm_1.1.0: Passed
Validation result of openehr_rm_1.0.4: Passed
Validation result of openehr_demographic_1.0.3: Failed
Validation result of openehr_proc_task_planning_1.0.0: Failed
Validation result of openehr_base_1.0.0: Passed
Validation result of openehr_rm_ehr_extract_1.1.0: Passed
Validation result of openehr_ehr_1.0.2: Passed
Validation result of openehr_rm_data_types_1.1.0: Passed
Validation result of openehr_structures_1.0.3: Failed
Validation result of openehr_primitive_types_1.0.2: Passed
Validation result of openehr_rm_structures_1.1.0: Passed